Morjim Hermitage
Suite Rooms

Welcome to Morjim Hermitage, a Resort style Holiday Home. A Goan Holiday Home resort managed and run by the soft spoken D'souza family. Wake up to the soft sound of silent waves crashing gently on the Morjim beach. Morjim Hermitage is located at a walking distance from the Morjim Beach. Stand on the Open Air Terrace of Morjim Hermitage and you will get an unobstructed view of the vast Arabian Sea and of the Morjim Beach.

Why stay at Morjim Hermitage?

Morjim Hermitage rooms are surrounded by green coconut palm trees and a quiet serene atmosphere, on the shoreline of the Morjim Beach in the North of Goa. Located within a stone's throw away, from the international famous Olive Ridley Turtle nesting sites. This is at a walking distance from the breathtaking clear waters of the Arabian Sea providing a deluxe experience to chill out and loosen up for those in search of the peace and harmony of a private holiday home with true Goan hospitality.
| | |
| --- | --- |
| | |
| Sea View Cottages | Suite |
| | |
Holiday Homes bang on Morjim Beach, North Goa

Stay bang on Morjim beach. Morjim Hermitage is located on Goa's longest beach that is Morjim Beach which is around 3.5 kms long and continues unbroken and undisturbed into Ashvem beach.

Beach Huts at Morjim Hermitage

Morjim Hermitage has to offer modern day independent cottages by the beach of Morjim in separate cottage like apartments in multi storied Beach bungalows or beach villas. We have to offer you fully furnished (1) Family cottages with 1 bedroom with balcony, 1 children's bedroom, spacious European style bathroom, living room with kitchen counter, dining table, fridge. (2) Suite Rooms with independent balcony. (3) Rooms with attached bathrooms. (4) Wooden Beach Cottages with attached cosy Bathrooms and some more additional natural and simple beach huts bang on Morjim beach of Goa.

Suite Rooms
Morjim Hermitage has to offer fully furnished A/C Villas which accommodate family of 4 pax, 02 A/C Suites, 03 Double bed A/C rooms and 04 Wooden beach A/C Cottages bang on the Morgim beach of North Goa.
Beach Holiday Homes Amenities
All our guest rooms are with independent balcony, western bathrooms, A/C, Refrigerator, T.V, 24 hours running hot & cold water, security, safe private car parking, in house restaurant with bar etc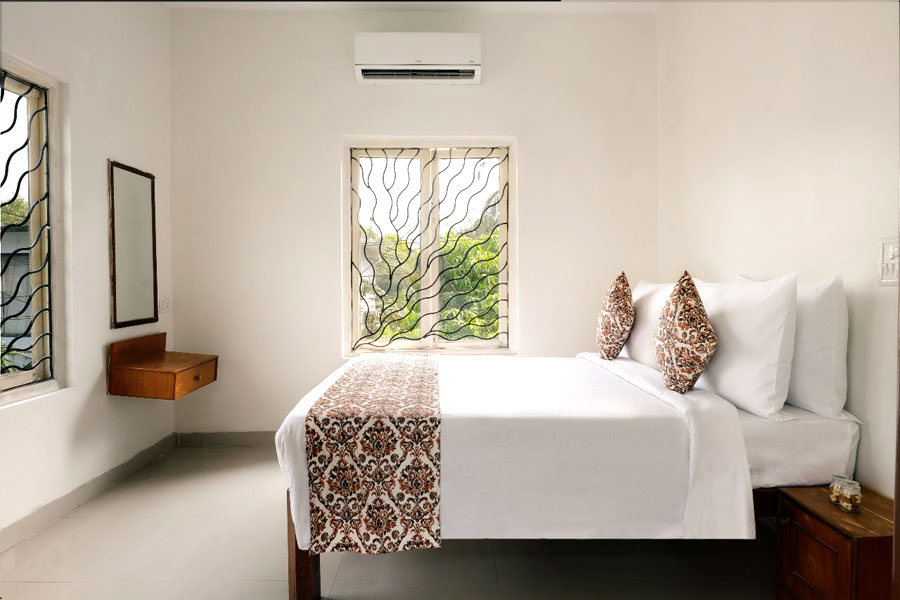 See Seagulls, Dolphins & Turtles at Morjim Beach
For those who love the endless expanse of the sea, Morjim beach has a lot to offer and discover. Swim in the unpolluted clear waters of the Arabian Sea. Get a full body sun tan that you so long desired on a quiet corner of the Morjim beach. Explore nature of Goa by setting sights on the visiting seagulls and hatching turtles. Spot a dolphin leap in joy over the azure blue waters. Spotting the ever friendly dolphins makes everyone joyful and happy.
Kremlin Bar and Restaurant
Morjim Hermitage Resort has its very own in house restaurant by the name of KREMLIN. Kremlin is the Russian word for "fortress." It indicates a group of buildings located within a fortification. Around our Kremlin restaurant on Morjim beach in Goa is situated all our other holiday accommodations around it. Our Russian named Restaurant is totally Goan in Heart and Indian in Character. Our Morjim Kremlin Restaurant has on offer all types of Cuisines. Kremlin offers good food, chilled beer and a cool place to hangout on your holidays.
Come as a guest, leave as friend, that's Morjim Hermitage's Trend